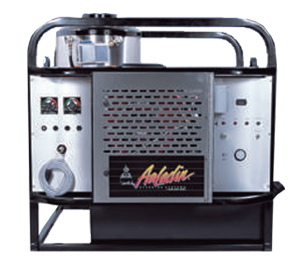 Self-Contained Pressure Washers
These Self-Contained Models are each Industrial Duty Pressure Washers with a Vertical Heat Chamber, Belt Drive, and Steam Combination.
The 45 series is a 110V industrial skid with a steam combination. They deliver 5 to 6 GPM at 3000 to 3500 PSI. Each machine has a GFCI protected auxiliary outlet, lifting eyes, and an easy access service door. This line is available with either a gasoline or diesel driven engine, a water separating fuel filter, and a zero pressure unloader. Wheel kits, downstream chemical injection, and a van hood are accessible as dealer installed options.
Standard Features include:
Durable Powder Coated Frame
Electric Start
Fuel Efficient Combustion Chamber
Hour Meter
Pressure Atomized Burner
Pressure Relief Valve
Quick Coupled Nozzles
Removable Fuel Tank
Roll Cage Frame
Schedule 80 Steel Pipe Coil
Shock Absorbing Engine Base
Stainless Steel Combustion Chamber
Stainless Steel Nozzles
Trigger Gun Control
Triplex Ceramic Plunger Pump
Variable Pressure Wand
Vertical Fired Coil
Wire Braid Discharge Hose
Belt Driven Pump
Low Oil Engine Protection (Vanguard)
Water Separating Fuel Filter
High Limit Temperature Control
Low Water Shut Off Protection
Adjustable Temperature Control
Automatic Electric Burner Ignition
Extended Engine Oil Drain
Stainless Steel Control Panel
Shock Mount Plastic Battery Box
Calibrated Detergent Mixing Valve
High Pressure Soap
High Capacity Generator
Stainless Steel Float Tank
High Limit Temperature Shut Down
Diagnostic Control Panel
Zero Pressure Unloader
Steam Combination
GFCI Protected Auxiliary Outlets
Heavy Duty Skid Base
Lifting Eyes
Easy Access Service Door
Removable Poly Fuel Tanks
Factory Installed Options
Cad Cell Flame Sensor
Honda Engine
Multi Gun Operation
Dealer Installed Options:
Downstream Chemical Injection
Four Wheel Kit
Van Hood
Factory Installed Options:
Cad Cell Flame Censor
Honda Engine
Multi-Gun Operation
  Model
45-535GV
45-530GV-C
45-535GH
  Flow Output (GPM)
 5
 5
 5
  Pressure Ratings (PSI)
 3500
 3000
 3500
  Max Operating Temperature
 210

°

 210

°

 210

°

  Heat Rise Degrees Fahrenheit
 155
155
 155
 Cleaning Comparison Index
 25,870
 25,870
 25,870
  Engine
 VANGUARD
 VANGUARD
 HONDA
  Engine Horsepower
 18
 18
 20
  Engine / Pump Drive
 BELT
 CLUTCH
 BELT
  Engine Fuel
 Gas
 Gas
 Gas
  Engine Fuel Capacity (U.S. GAL)
 7.4
 7.4
 7.4
  Engine Fuel Start
 ELECTRIC
 ELECTRIC
 ELECTRIC
  Operating Fuel
 Oil
 Oil
 Oil
  Input BTU's
 465,000
 465,000
 465,000
  Fuel Consumption (GPH)
 1.8
 1.8
 1.8
  Burner Fuel Capacity
 16.5
 16.5
 16.5
  Burner Voltage
 110V
 110V
 110V
  Stack Size
 8"
 8"
 8"
  Discharge Hose
 3/8"x50'
 3/8"x50'
 3/8"x50'
  Length
 45"
 45"
 45"
  Width
 45"
 45"
 45"
  Height
 45"
 45"
 45"
  Approximate Weight (LBS)
 950
 965
 950
  Model
45-530GH-C
45-530GD
45-530GD-C
  Flow Output (GPM)
 5
 5
 5
  Pressure Ratings (PSI)
 3500
 3000
 3500
  Max Operating Temperature
 210

°

 210

°

 210

°

  Heat Rise Degrees Fahrenheit
 155
155
 155
 Cleaning Comparison Index
 25,870
 25,870
 25,870
  Engine
 HONDA
 KUBOTA
 KUBOTA
  Engine Horsepower
 20
 13.5
 13.5
  Engine / Pump Drive
 CLUTCH
 BELT
 CLUTCH
  Engine Fuel
 Gas
 Diesel
 Diesel
  Engine Fuel Capacity (U.S. GAL)
 7.4
 7.4
 7.4
  Engine Fuel Start
 ELECTRIC
 ELECTRIC
 ELECTRIC
  Operating Fuel
 Oil
 Oil
 Oil
  Input BTU's
 465,000
 465,000
 465,000
  Fuel Consumption (GPH)
 1.8
 1.8
 1.8
  Burner Fuel Capacity
 16.5
 16.5
 16.5
  Burner Voltage
 110V
 110V
 110V
  Stack Size
 8"
 8"
 8"
  Discharge Hose
 3/8"x50'
 3/8"x50'
 3/8"x50'
  Length
 45"
 45"
 45"
  Width
 45"
 45"
 45"
  Height
 45"
 45"
 45"
  Approximate Weight (LBS)
 965
 1025
 1040
  Model
45-630GV
45-630GH-C
45-630GD
  Flow Output (GPM)
 6
 6
 6
  Pressure Ratings (PSI)
 3000
 3000
 3000
  Max Operating Temperature
 210

°

 210

°

 210

°

  Heat Rise Degrees Fahrenheit
 155
155
 155
 Cleaning Comparison Index
 33,527
 33,527
 33,527
  Engine
 VANGUARD
 HONDA
 KUBOTA
  Engine Horsepower
 23
 20
 20.4
  Engine / Pump Drive
 BELT
 BELT
 BELT
  Engine Fuel
 Gas
 Gas
 Diesel
  Engine Fuel Capacity (U.S. GAL)
 7.4
 7.4
 7.4
  Engine Fuel Start
 ELECTRIC
 ELECTRIC
 ELECTRIC
  Operating Fuel
 Oil
 Oil
 Oil
  Input BTU's
 562,000
 562,000
 562,000
  Fuel Consumption (GPH)
 2.4
 2.4
 2.4
  Burner Fuel Capacity
 16.5
 16.5
 16.5
  Burner Voltage
 110V
 110V
 110V
  Stack Size
 8"
 8"
 8"
  Discharge Hose
 3/8"x50'
 3/8"x50'
 3/8"x50'
  Length
 45"
 45"
 45"
  Width
 45"
 45"
 45"
  Height
 45"
 45"
 45"
  Approximate Weight (LBS)
 950
 950
 1100